This is me on a sea-kayaking trip last year with Frood at Portknockie, in which we were ably guided by Sam Weir of Kayak Scotland: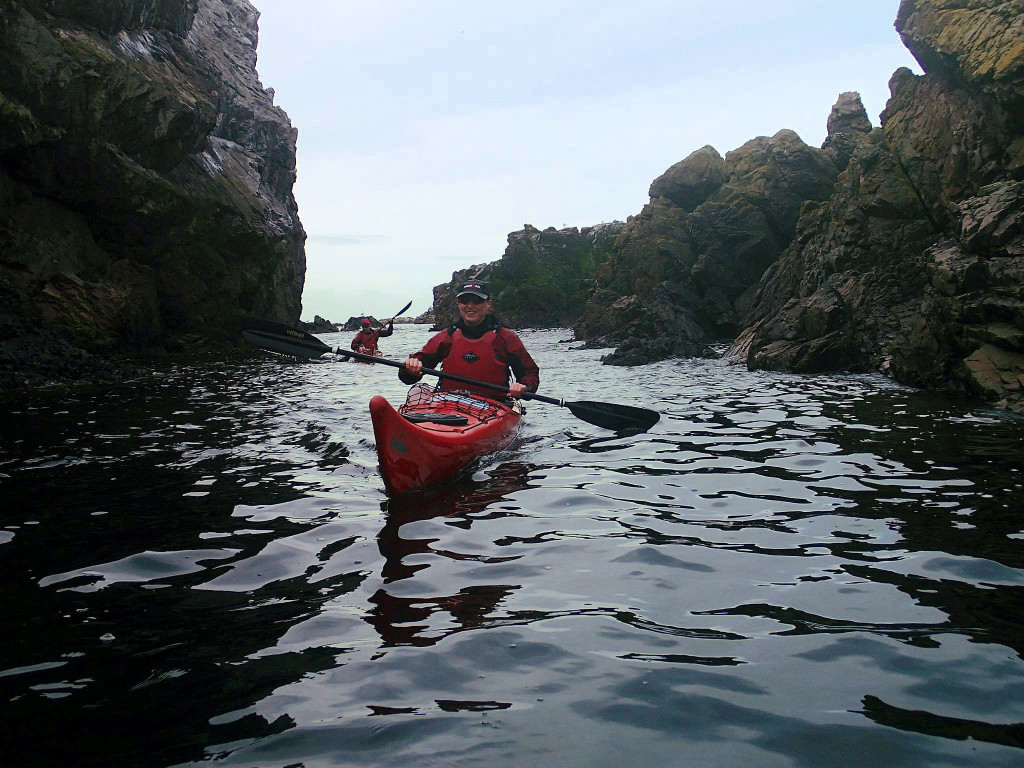 That grin on my face is a result of being encouraged into doing things I had no idea I was able to do with the experience I had, and coming out the other side with vastly increased confidence and a burning desire to get out there, do more and go further, and have even more fun in the process.
Now you have a good idea of what my face looked like when I found out that my story She Gave Her Heart, He Took Her Marrow has been selected by Jason Sizemore and Lesley Connor for Best of Apex Volume 1. There might have been some jumping around squealing, too.
Just a bit.
To help fund the project, the Apex team is holding a raffle for a place on Carrie Cuinn's Editing for Writers workshop, worth $100. The course is 4 weeks long, and should be a goodie.
"Editing 101" – AKA "Editing for Writers". Identifying parts of a story, tenses and perspectives, narrative arcs, and other elements that are potentially affected by the editing process. Definitions, editing marks, using (and creating) style sheets, important style manuals, levels of editing, and fact-checking. The basics of copyediting: concepts and skills necessary for line editing (also called copyediting), relying mainly on the Chicago Manual of Style, 16th ed; editing vs. proofreading; tips for spotting tricky errors. The basics of developmental editing: what it is and isn't, including the specifics of developmental editing in fiction. We'll also cover rates, and working with clients, including querying about edits, maintaining an author's voice, and related services.
As you may already know, Carrie published my story What The Water Gave Her in the Dagan Books anthology Fish, which was a huge deal for me. Carrie is putting herself through school at the moment, supporting herself with her freelance author and editor work, while raising her young son. This is a great opportunity to buy a chance to take what promises to be a great course for the sum of $3, which is less than a pint of beer or a large coffee at Haymarket's AMT. Apex will split what they get from the raffle 50/50 with Carrie. Buying a ticket will help support both Apex and Carrie, and put you in with a chance of winning the top prize. Other prizes on offer include print copies of Women and Other Constructs by Carrie Cuinn, Starve Better by Nick Mamatas, To Each Their Darkness by Gary A. Braunbeck, and For Exposure: The Life and Times of a Small Press Publisher by Jason Sizemore.
Go on. You know you want to.