While I've been doing pretty well at keeping up with my short story target, I've not been doing quite so well at everything else.
It happens. Life gets in the way. Holding down a full-time job, writing, editing and participating in crit groups, as well as the other things like house hunting, riding my bike and getting out into the sun occasionally for the sake of my sanity all take time. Not to mention eating, sleeping, reading… As important as a social media presence is to the modern writer, I think it's important to cut yourself some slack. Of all the things for which I could berate myself, not posting as frequently as I intended on my blog is not going to be top of the list.
I've been trying different modes of writing this year, sparked by an exercise I completed in one of Cat Rambo's classes (very good, I've taken a few, do try them). The hypergraphia means I've always been a pantser — I get an idea, put pen to paper, the words come out. This is fine, to a point, but the same capacity to dribble countless words directly from my brain onto the page via the medium of pen and ink means I find it really hard to stay on track. As an example, I set out to write a piece of Christmas themed flash for a LTW anthology, and two months later it had turned into a 12.5k word novellette.
For me, the process of writing a story feels like opening a door in one branch of some great, fractal beast, and it's really difficult to stick to the one little piece. Imagine opening a door into one tiny alveolus then moving further out into the bronciole, the lung, the chest, the person, the person's family, village, country, world…
When I first started outlining, I tried to write what would happen and it felt awful. I wrote a list, and tried to stick to it, and it was like being surrounded by a wall. I couldn't see past it. Rather than helping my creativity, it stifled it. Conforming to a list was too much like having to stay on a path even though the best view would be from the other side of the adjacent field. So I gave up, went back to my old method of writing, and was faced with the problem of sifting a coherent story from the mass of verbiage.
Cat also recommended Ken Rand's the 10% Solution, a recommendation I have passed on to others. For me, most often, staring at the first draft of what was supposed to be 5k and has turned out to be double that, ten per cent isn't ambitious enough.
I needed to find a happy compromise, and to that end I've been playing with mind mapping software.
Being a Scrivener user, I've had Scapple for a while, and I really love its simplicity and endless permutations. I would recommend both programs to anyone who likes complete freedom to plot and write. I have been using Scapple a lot for outlining An Elegy in Dustvines, and it has helped enormously.
It's not the only option. I bought a Samsung tablet last year for editing and proofreading — it's almost as good as having a printout of a story for catching typos one might otherwise miss — and Scapple doesn't run on the Android OS. Instead I've got both Mindomo and SharpMindMap.
Of the two, SharpMindMap is the closer to Scapple in terms of flexibility. It doesn't try to hold you to the standard format of a central topic with sub-topics. I prefer not to be confined to that, as I often want to have two separate main threads running parallel, for instance critical points in the story for protagonist and antagonist. The export options are not as good, however.
Mindomo exports directly into Evernote, which is another productivity tool I've started using. It can be persuaded to have more than one major nexus in a single project, but it has a tendency to try to join them up again if they are placed too closely together. That said, it's a good looking app, with some nice themes, it's intuitive to use, and the export options are very handy.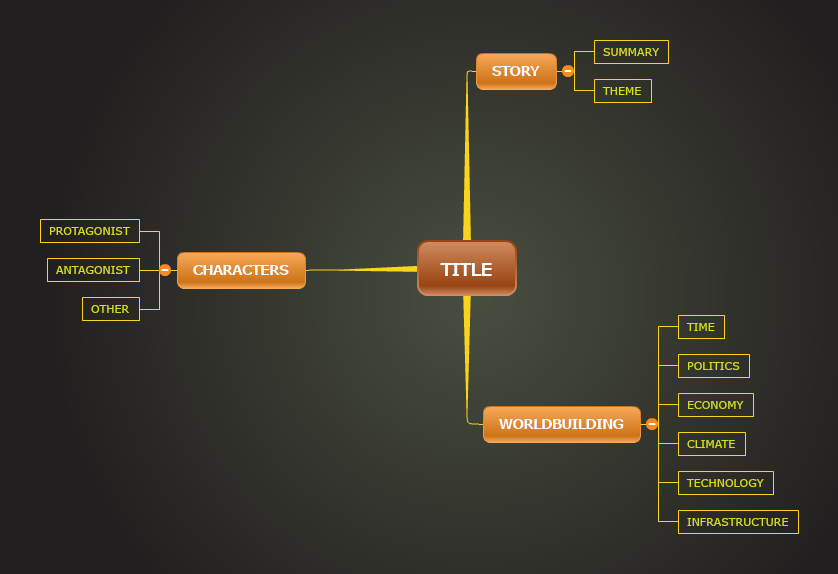 That's the kind of context map I might produce for a short story. Once I've finished sketching out some of these details, I'll outline the main points of the plot. While this level of detail might be far too much for most people, I find having it set out in my outline helps me keep my imagination in check. Well, not so much in check, but satiated. Without this, I'm far too easily distracted.
I've just finished outlining a new story, and today I'm going to experiment with moving directly onto outlining and writing a different new story, just to see what happens (also, deadlines). It will be interesting to see if the detailed outline is enough to hold the story in potentia. I would normally expect the hypergraphia to roll on to something else if I don't use a story idea right there and then.
It would be nice to find a way of holding onto all of my crazy ideas.